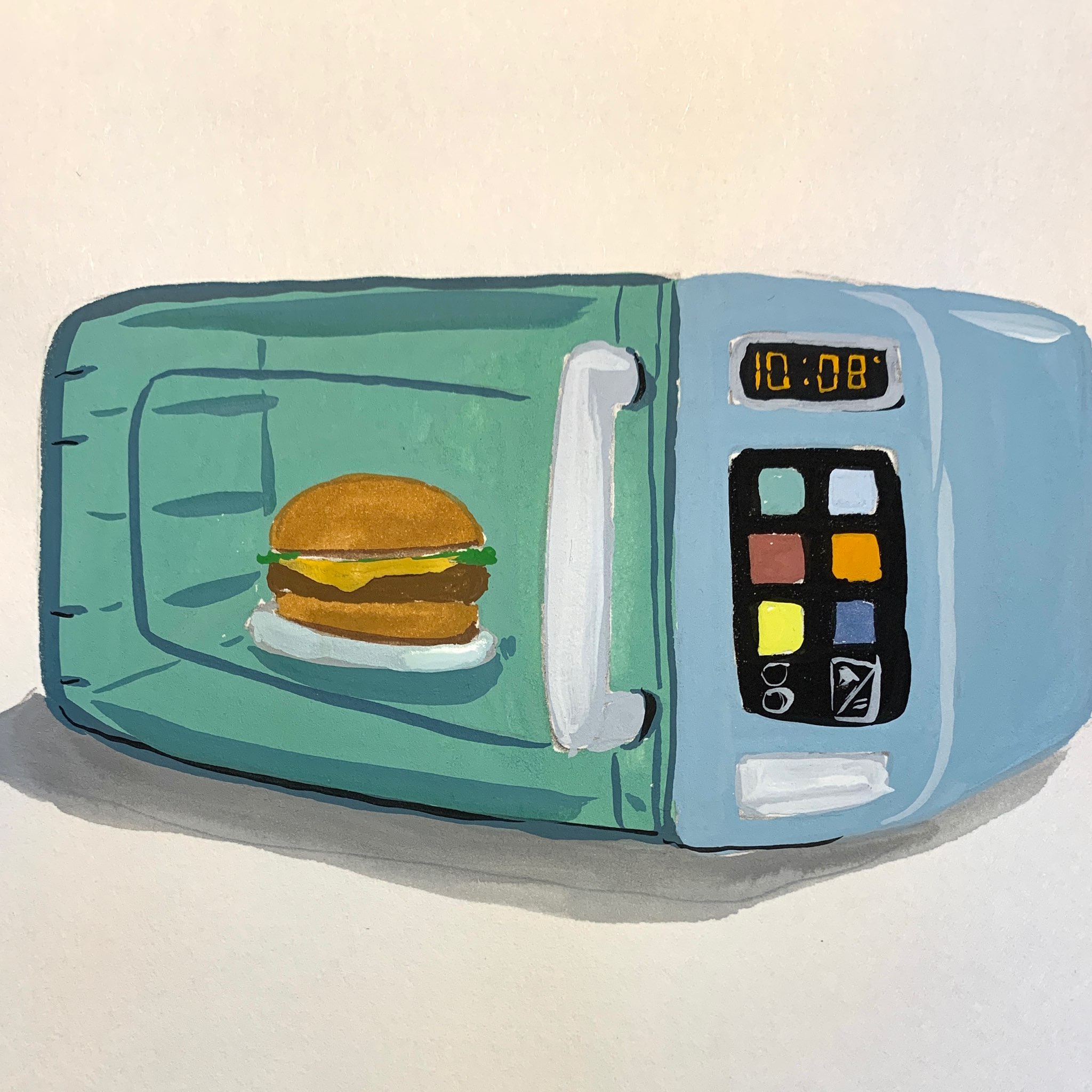 Episode 84
February 17,  2022
On the Needles 1:52
ALL KNITTING LINKS GO TO RAVELRY UNLESS OTHERWISE NOTED.  Please visit our Instagram page @craftcookreadrepeat for non-Rav photos and info  
Newspaper Pullover by Joji Locatelli, Biches & Buches Le Petit Lambswool in Light Grey, Isager Yarn Spinni in Charcoal– DONE!!
Stochastic Hat by Hunter Hammerson, Gauge Dyeworks dk in Monte Carlo Blue– DONE!!
Go tell the bees shawl by Michele Bernstein, Sincere Sheep Eureka Fingering in Brave Enough (gradient)
On the Easel 11:29
On the Easel:
inspired by Daria's wallpaper project. See spoonflower…
I'm drawing all kinds of botanically inaccurate scenes just for fun!
On the Table 14:01
Liam Charles's Salted Caramel Chocolate Tart - The Great British Bake Off
Mustardy Cauliflower cheese from Simple by Ottolenghi
Tofu wraps from the Dinner Plan by Kathy Brennan and Caroline Campion
Pan-banged Peanut butter choc chippers
Buffalo Cauliflower with Tahini Ranch dip
Trying sprouted oats
Cooking at Home
by David Chang & Priya Krishna: 25:17
Chili crisp

Boiled chicken!

Soup for lunch

Chicken rice with ginger scallion sauce

Mango sticky rice

Microwaved chicken thighs

Chicken with bacon and spinach

Chicken with gochujang and potatoes

Corn braise→ tacos, shrimp

Sauteed cabbage: garlic, chile, soy, rice vinegar, honey, sesame seeds

"Baked" potatoes

Chile-lime brussels sprouts

Dal

Cream of veg soup (rutabaga, butternut, parsnips)

Pay attention to all levels of seasoning: salt, umami, acid, heat, fact, etc.

Love the food scientist interviews.

I've been over-cooking chicken.

Stop avoiding the microwave. Cook with glass containers.

Consider buying a clay pot.

Consider buying a new refrigerator (seriously, ours is languishing).

Consider buying a wok.

YES to condiment chapter.

Field trip to H-Mart &/or Pacific Market asap.

To try (once the construction dust settles): chicken rice, corn thing on pg 288, dumplings, stuffed cabbage, stromboli (asap)!
On the Nightstand 53:07
We are now a Bookshop.org affiliate!  You can visit our shop to find books we've talked about or click on the links below.  The books are supplied by local independent bookstores and a percentage goes to us at no cost to you!
Red at the Bone by Jacqueline Woodson (audio)
The Scholar by Dervla McTiernan (audio)
Song of Achilles by Madeline Miller
One Dance with a Duke by Tessa Dare
One Day in December by Josie Silver 
Comfort Me with Apples by Catherine M. Valente
Noor by Nnedi Okarafour 
Iron Widow by Xiran Jay Zhao
Where the Drowned Girls Go by Seanan McGuire
Damnation Spring by Ash Davidson (with cover by Jeremy Miranda)